Chuparosa Vineyards' wines are estate-grown, produced, and bottled.
Green labeled releases are vineyard-designated Ramona Valley grown grapes harvested, produced and bottled by Chuparosa Vineyards.
2019 Estate Albariño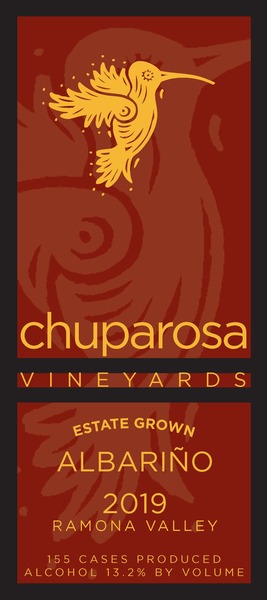 (155 cases produced)
This 100% Albariño was harvested from our South block. Fermented in a stainless steel tank, it presents very fresh fruit. The highly regarded white varietal has Spanish roots, and this California example authentically reflects the bright, aromatic strength of its character.
We've heard that white wines can't be grown well in San Diego County. This is our reply. Come have a taste and judge for yourself.
The 2018 vintage received a score of 88 POINTS Wine Enthusiast – Nov 2019
---
2019 Kohill Vineyard Semillon
Sold out!
Our first unforgettable sip of Semillon was in Australia's Hunter Valley. The variety has long been neglected in California, but it is now grown at Kohill Vineyard here in Ramona. The fruit was entrusted to Chuparosa Vineyards to create this fully dry 100% Semillon that gets our full attention.
---
2019 Harbour Farm Chenin Blanc
Sold out!
This once-beloved, but now rare, California variety is getting new attention. It brings us happy, intense memories of discoveries, and tastes even better today when made from excellent ripe Ramona Valley fruit harvested with friends, and then slowly fermented in chilled stainless to total dryness.
2016 Estate Zinfandel
(131 cases produced)
The 2016 Zinfandel is rich, bright and spicy. It is a limited production, hand crafted, estate grown 100% single varietal from our southern block behind the winery here in the Ramona Valley. One acre of dormant bench grafted "Deaver" clone vines sourced from the Gold Country of California on 110R root stock were planted in April 2004 in soil cleared to the ground by the massive San Diego County wildfire of October 2003.
It was harvested in multiple passes through the block – each vine at the optimum ripeness – and aged two years in American Appalachian oak.
The 2015 vintage received the Editors Choice award and a score of 89 POINTS Wine Enthusiast – Dec 2019
---
2015 Estate Sangiovese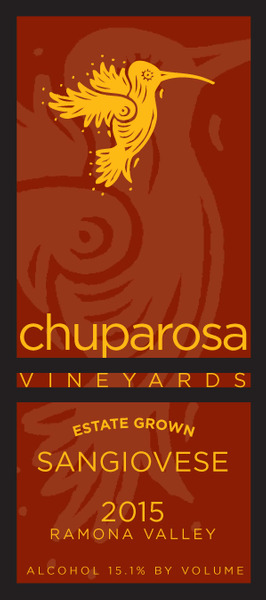 (194 cases produced)
This complex, rich, structured wine is grown from VCR-6 vines sourced from Italy's Vivai Cooperativi Rauscedo. We followed many of the guidelines set by the Consorzio del Vino Brunello di Montalcino for their producers. It was harvested in late August 2015, and aged two years in Eastern European oak.
The 2015 vintage received the Editors Choice award and a score of 90 POINTS Wine Enthusiast – Dec 2020
---
2016 Estate Malbec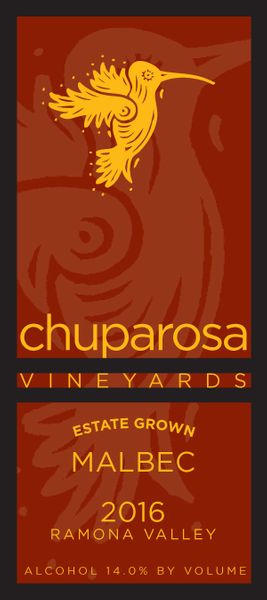 (100 cases produced)
In 2009 we planted 3/4 of an acre of Malbec, and added another 1/4 acre in 2014. This 100% Malbec shows nice depth, deep color, and a good finish. It was ready for harvest in late September 2018. It was aged one year in a blend of American and French oak prior to bottling.
Malbec has traditionally been used in other wine regions as a blending grape, but we have found that the optimal weather and soil in the Ramona Valley AVA allows the fruit bouquet and the complex taste profile necessary for a stand-alone offering.
The 2015 vintage received the Editors Choice award and a score of 91 POINTS – Wine Enthusiast – Nov 2019
---
2018 Estate Cabernet Franc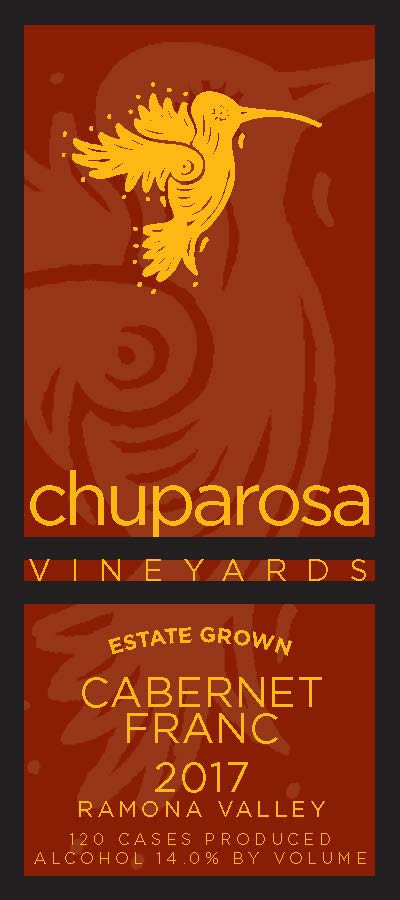 (120 cases produced)
This release of our Ramona Valley 100% Cabernet Franc red wine illustrates what followers of this variety are looking for: subtle, fragrant, and herbal, with a California richness that lets it stand on its own. It was harvested at optimum maturity, then aged one year in American oak prior to bottling.
While we rarely enter wine competitions, we entered the 2014 Cab Franc in the New York Finger Lakes International Wine Competition, where it was awarded a double gold medal ("when each judge at the table gives the wine an undeniable two thumbs up for every aspect of the wine (typicity: how true it is to its own varietal character, balance: of fruit, acid, tannin and alcohol, and its overall likeability.)" This happens rarely – to the top 4% of wines entered.
The 2016 vintage received the Editors Choice award and a score of 88 POINTS Wine Enthusiast – March 2019
---
2017 Estate North Block Blend – Red ( SuperT )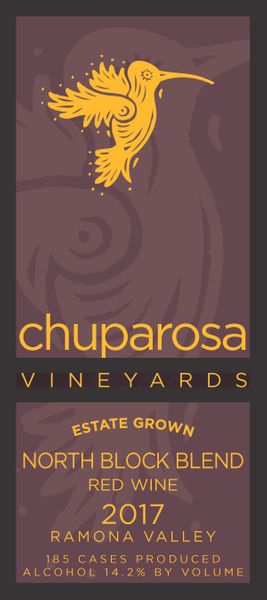 (185 cases produced)
This blend of selected vines from our North block adheres to the Super Tuscan approach from Italy. Starting with a Sangiovese base, each year we select and harvest together a mix of Malbec and Cabernet Franc. The blend is destemmed, fermented and gently aged together for one year in European oak barrels.