All Chuparosa Vineyards' wines are estate grown, produced, and bottled.
     2011 Zinfandel  (202 cases produced)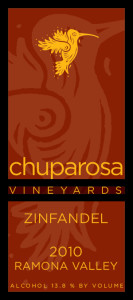 The 2011 Zinfandel is a very limited production, hand crafted, estate grown 100% single varietal from our southern block behind the winery here in the Ramona Valley.
One acre of dormant bench grafted "Deaver" clone vines sourced from the Gold Country of California on 110R root stock were planted in April 2004 in soil cleared to the ground by the massive San Diego County wildfire of October 2003.
The 2011 crop was thinned and held to 2.0 tons for the acre of grapes, and then harvested in four separate passes through the block in September and October.   The wine was aged for two years in 300 liter American Appalachian oak barrels, bottled, and then aged two more years before the release in 2015.
    2011 Sangiovese   (243 cases produced)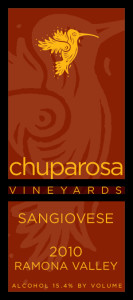 In 2007 we started the north block project by planting 1.5 acres of vines grown from the VCR-6 clone sourced from Italy's Vivai Cooperativi Rauscedo, better known as Brunello. This second  harvest in 2010 yielded a rich, complex wine not unlike the 2009.  It was aged in Eastern European (Hungarian) Oak for two full years.
This wine was released in 2015, and is now available for tasting and purchase exclusively at the new Chuparosa Vineyards visitor sales building and patio overlooking the vines from which it was grown.

2013 Malbec   (133 cases produced)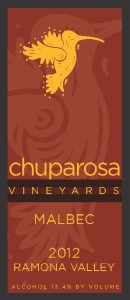 In 2009 we planted 3/4 of an acre of Malbec. This 2013 vintage from 4th leaf vines is our third release of the Malbec, and it shows nice depth, deep color, and a good finish. It was harvested at optimum maturity in 2 passes through the block in August and September 2013. It was aged one year in a blend of American Missouri and Appalacian oak.
Malbec has traditionally been used in other wine regions as a blending grape, but our friend Joe Cullen (Cactus Star at Scaredy Cat Ranch) pioneered  the first Ramona Valley Malbec and inspired us to follow.  With the optimal weather and soil in the Ramona Valley AVA this 100 percent Malbec varietal contains both the fruit bouquet and the complex taste profile necessary for a stand-alone offering.
2015 North Block Blend – Rose'   (39 cases produced)

This is a refreshing dry classic rose' made from special selections from our estate grown Cabernet Franc and, Malbec.  The fruit was pressed immediately after crush, and then co-fermented to rapidly integrate the best of all varietals. The fermentation was taken to complete dryness so there is no residual sweetness on the palate – only a crisp refreshing taste of the summer.
Special thanks are extended to our friend Mike Kopp (Kohill Winery here in the Ramona Valley) for his help and counsel in bringing our first two rose' wines forward (2011 and 2012), and to Jim Hart (Hart Winery of Temecula Valley and Milagro Farm of Ramona Valley) for showing us exactly how good our grapes can look (and taste!) in pink.
2014 Cabernet Franc     (67 cases produced)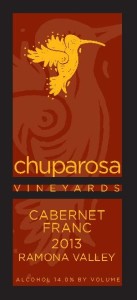 This third release of our Ramona Valley 100% Cabernet Franc red wine illustrates what followers of this variety are looking for: subtle, fragrant, and herbal, with a California richness that lets it stand on its own.  It was harvested at optimum maturity in late August 2014, then aged one year with French oak prior to bottling.
While we rarely enter wine competitions, we entered the 2014 Cab Franc in the New York Finger Lakes International Wine Competition, where it was awarded a double gold medal.
We've since learned that while approximately 10% of the wines entered into a big competition will be awarded "gold" medals, at the Finger Lakes competition a "double gold" is awarded "when each judge at the table gives the wine an undeniable two thumbs up for every aspect of the wine (typicity: how true it is to its own varietal character, balance: of fruit, acid, tannin and alcohol, and its overall likeability.)" This happens rarely – to the top 4% of wines entered this year.
2014 North Block Blend – Red      (125 cases produced)  

This blend of selected vines from our North block adheres to the Super Tuscan approach from Italy.  Starting with a Sangiovese base, each year we select and harvest together a mix of Malbec and Cabernet Franc.  The blend is destemmed, fermented and gently aged together for one year in European oak barrels.