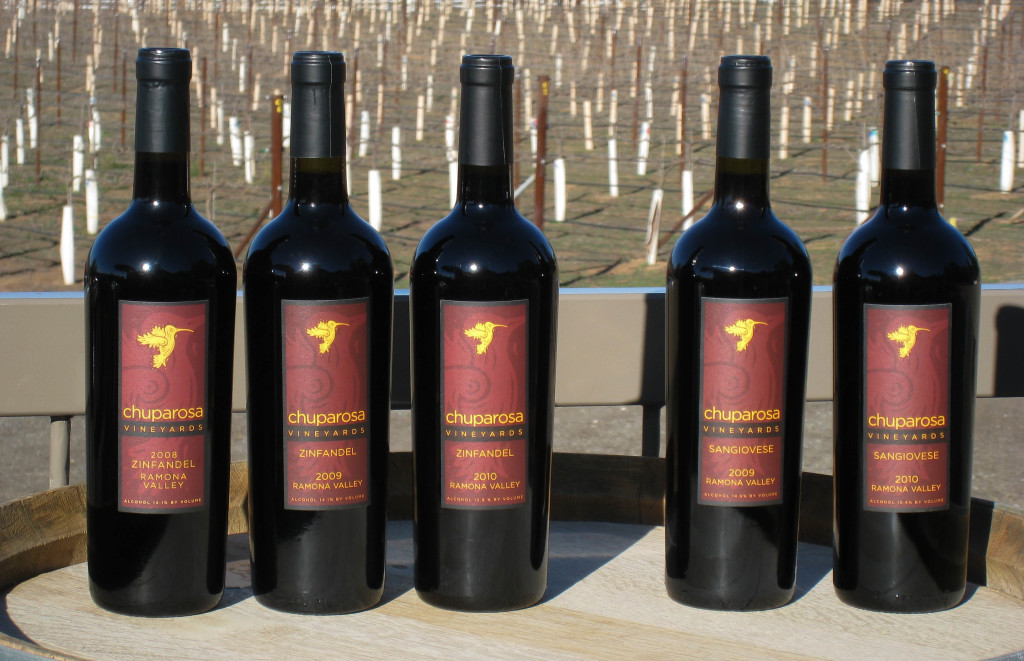 As we sell our last dozen cases of 2008 Zinfandel we thought we'd take advantage of the window of opportunity to offer a three year vertical tasting of this most-favored example of the potential of the varietal here in San Diego County.   Not to be outdone, the 2009 Sangiovese is being presented side-by-side with its new 2010 sibling.
Both varieties are grown, produced and bottled on-site here in the Ramona Valley, making them "estate" wines, as is the case with all of our production.
The 2008 Zinfandel has been a good ambassador, and has made many friends.   Our philosophy here at Chuparosa Vineyards is to let the wine speak for itself, and many, many folks have become Zin lovers after meeting this wine.
The 2008 Zinfandel is true to its variety:  spicy, peppery, ripe and rich.  It has blossomed as it aged two years in American Appalachian oak and now three years in the bottle.  Some say that a Zinfandel is at its optimum at 5 years of age, and with this particular wine, we'll have to agree.
Yes, we will miss the '08 Zin, but stand by — the 2009 and 2010 are giving it a run for its money, developing quite an independent attitude themselves in the bottle, which suits them very well.
Here's the '08 Zin with his '09 and '10 friends sharing a sushi platter from Ramona's "Da Tuna Shack" at the going away party: